Chemicals, Testing, Mineral Purifiers
Aquaspa spa chemical system - non chlorine / bromine spa chemical range, Lamotte 2062 Biguanide electronic test kits, AquaChek TruTest test strip reader and strips, Spa Frog and Nature 2 spa cartridges - generic and spa specific models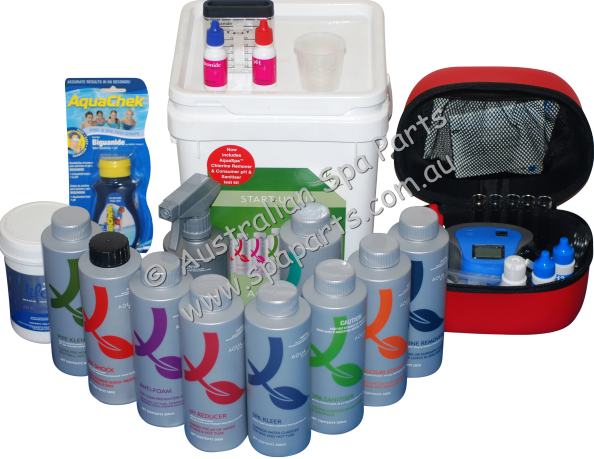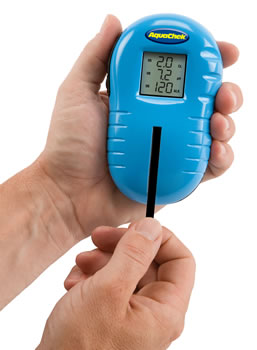 AquaChek TruTest Digital Test Strip Reader
Ideal Chemical Test Results for Spas
pH 7.2-7.8
Bromine 2.0-5.0ppm
Chlorine 3.0-5.0ppm (1ppm with ozone, N2)
Total Alkalinity 80-120ppm
---
SKU: trutestreader
PERFECT FOR FAST, ACCURATE, EASY TESTING OF YOUR SPA OR POOL WATER AquaChek TruTest Digital Test Strip Reader Combines the ease and accuracy of AquaChek Test Strips with advanced digital technology. No more ...
17 In Stock
SKU: truteststrips
50 test strips - For exclusive use with the AquaChek TruTest digital test strip reader. These single use disposable strips calulate Free Chlorine / Bromine, pH, and Total Alkalinity....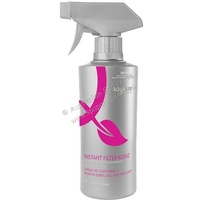 SKU: psaqc500
Aquaspa Instant Filter Klenz 500 ml...
8 In Stock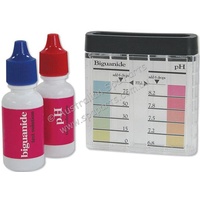 SKU: pstkt500
Aquaspa Spa Standard Test Kit - this is the basic test kit supplied with the Aquaspa Start Up Kit tesing Sanitiser (Biguanide) and pH ONLY - approx 50 tests can be made with this kit. Download user guide her...
6 In Stock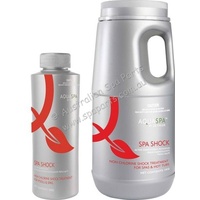 SKU: psaqs750
Aquaspa Spa Shock 500g bottle IMPORTANT FREIGHT NOTE - Please order ONLY chemicals / chemical kits listed in this category on your invoice as actual freight costs will be affected if additional items are ad...
12 In Stock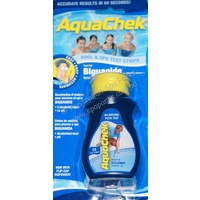 SKU: aquachekbiguanide
Aquaspa Aquachek Blue Biguanide Chemical Test Strips - 25 strip bottle...
3 In Stock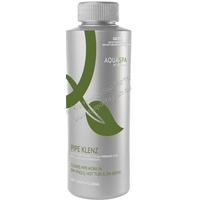 SKU: psaqp500
Aquaspa Pipe Klenz 500 ml Highly concentrated formula that cleans pipework in spas and spa baths that can harbour undesirable body fats, oils and soap scum. IMPORTANT FREIGHT NOTE - Please order ONLY chemi...
6 In Stock
SKU: artesianop96-0017-00
Nature 2 cartridge designed for Artesian Spas - screws into cap that pushes into the top of Artesian Spas disposable Quli-flo filter cartridge. 3-6 month lifespan dependant on use....
16 In Stock
SKU: hs71325
Hot Spring Spas Freshwater Everfresh Nature 2 Nature 2 designed specifically for use in Watkins Manufacturing brand spas - Hot Spring Spas, Sloana Spas, Hot Spot Spas, Tiger River Spas. It has a moulded disk...
10 In Stock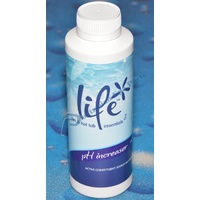 SKU: psbp1500
Life pH Increaser 500 g - Soda Ash Raises pH independently - is required to neutralise pH...
9 In Stock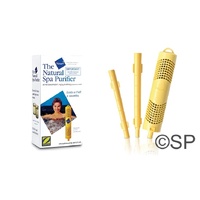 SKU: zw20660a
Nature 2 spa purifier cartridge designed for any spas - used either inside the filter cartridge or in the filter skimmer basket. 3-6 month lifespan dependant on use. Best used with Lithium Hypochlorite san...
13 In Stock