Shipping:
Calculated at checkout
Notify me when back in stock
Product Description
Spa bath Plumbing System complete kit to suit either a spa bath with 55mm jet holes, or a bare bath being converted to a spa bath. Kit comprises: 6 x ww 228-0370 assy Waterway 300LS jet bodies - 55mm hole required. 4 x ww 229-8718-pc Waterway 300LS Directional Chrome jet internals 2 x ww 229-8468-pc Waterway 300LS Twin Roto Chrome jet internals 1 x ww 672-6970 manifold (3 x 2 port) for air 1 x ww 660-3270-pc Waterway Chrome air control 1 x ww 425-1000 1/2"S - 3/4" barb adaptor 6 x wc 121925 1" tee for water manifold 6 x ww 672-4310 3/4" x 1" spg adaptors for water manifold 1 x ww 413-4130 1.5" x 1" x 1" 120 degree Wye for water 8m x pia cvt-019 3/4" CVT tubing - water and air main line 4m x pia cvt-009 3/8" CVT tubing - air 18 x pia swc-024 3/4" spring wire clamps 1 x IPS 747-016 glue 1 x ww 643-4460-pc vackit Waterway Designer spa bath Chrome suction assembly w/safety vacuum kit 1x e 1111-ch Edgetec Air Button 1 x fibreglassing kit - to make fibreglass 'straps' to position the water & air manifolds against the spa shell above the jets. What you need: Dremel rotary grinding tool to enlarge existing holes, or the following holesaws: 55mm holesaw - jets 70mm holesaw - suction 35mm holesaw - air control & air button Heat gun - to bend 25mm pressure pipe around the bath to follow bath form 40mm pressure pipe to connect suction to bottom of pump and from 120 degree Wye to top of pump 25mm pressure pipe to wrap around the bath from the pump for water feed to jet manifold and back to the pump - both ends connecting to pump using 120 degree Wye NB. Pump must be positioned so that water self drains back to the spa bath suction fitting, but must also be installed so that the pump will not airlock once jets are flooded. Only minimal fall of the bottom 40mm pipe from the pump to the suction is required. Australian Spa Parts will take no responsibility for incorrect design or installation. We recommend using a technician experienced in spa bath plumbing. We also recommend you consider purchasing a new factory manufactured spa bath. Internationl customers - we can supply this kit, but it will be without glue and fibreglassing kit.
---
Customers Who Viewed This Product Also Viewed
---
More From This Category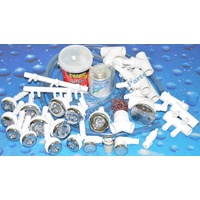 Backorder
What does Backorder mean?
Backorder
If 'Backorder' is displayed, this spa part is temporarily out of stock but still available for purchase.
Delay in supply may be between 1 day and 12 weeks depending on product/source or whether its already in transit to us - the vast majority of back ordered parts are available within days. If you 'Backorder', the part will add to your shopping cart and be charged. It will then ship as soon as it's received. If you are concerned about the potential wait time, please contact us for advise on expected delay timeframe on this particular spa part.

We recommend you purchase backordered parts using Direct Deposit as your payment method so that no automated credit card charge is made ahead of supply. This puts the order in place, but payment can then be delayed until parts become available. You will then be able to pay via direct deposit, or credit card via 'my account' online or over the phone.

It's possible that a product displaying 'Backorder' is in fact in stock and displaying incorrectly. The item may also be out of stock and discontinued (no longer available) and not yet removed from view. For these reasons we strongly encourage you to contact us to confirm availability on items displaying 'Backorder'.