Filter By Category

Filter By Stock

Filter By Price Range

Filter By Brand
Australian Spa Parts - spa diverter jets - 2 way & 3 way diverters Dual/Quad Flo, Butterfly, Turbo
Many spas have been fitted with larger swim / whirlpool sytle jets that have the alternate function of acting as a water diverter as well, instead of a standard diverter valve on the top of the spa.
A diverter jet directs the flow from the pump to either the actual diverter jet itself, or to plumbing leading to other jets.
Diverters of different design or settings allow water diversion to one or two alternate plumbing outlets in addition to the jet.
Most diverter jets are aging and becoming rare with the more popular spa top mounted diverter valves being used.
We have a small range of the only diverter valves available, listed here.

Care must be taken when replacing an existing diverter jet - the new jet functionality and plumbing port configuration may be very different from the original jet.
---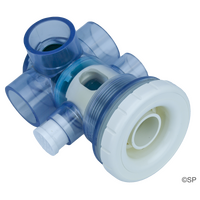 SKU: hai10-5040
Available with white jet face Suits 83mm diameter hole 3 way diverter jet...
3 In Stock
Backorder
If 'Backorder' is displayed, this spa part is temporarily out of stock but still available for purchase.
Delay in supply may be between 1 day and 12 weeks depending on product/source or whether its already in transit to us - the vast majority of back ordered parts are available within days. If you 'Backorder', the part will add to your shopping cart and be charged. It will then ship as soon as it's received. If you are concerned about the potential wait time, please contact us for advise on expected delay timeframe on this particular spa part.

We recommend you purchase backordered parts using Direct Deposit as your payment method so that no automated credit card charge is made ahead of supply. This puts the order in place, but payment can then be delayed until parts become available. You will then be able to pay via direct deposit, or credit card via 'my account' online or over the phone.

It's possible that a product displaying 'Backorder' is in fact in stock and displaying incorrectly. The item may also be out of stock and discontinued (no longer available) and not yet removed from view. For these reasons we strongly encourage you to contact us to confirm availability on items displaying 'Backorder'.